In late 2015, Lori was in desperate need of cardiology care for her heart condition. In the past, she had always been able to pick up the phone and schedule appointments with her specialists. But this time, it wasn't that easy. Lori was out of money and uninsured, with no access to affordable health care.
Lori and her husband, Rich, live in Bristol, Virginia, a town split between Virginia and Tennessee. Known as "the birthplace of country music," it is nestled in the Appalachian Mountains. Virginia is one of only 19 remaining states that has not expanded Medicaid. In these states, people like Lori don't qualify for the regular Medicaid program, even though their income is minimal.
Lori never imagined that her address would make her ineligible for health insurance. But a series of unexpected events left Lori, a grandmother of five, without access to potentially life-saving health care. Fortunately, her husband is a veteran of the army and receives health coverage through the VA. Lori, however, cannot receive coverage through his VA health insurance.
"We worked our entire adult lives and paid into the system," Lori said, "and I feel like we should be able to get help when we need it."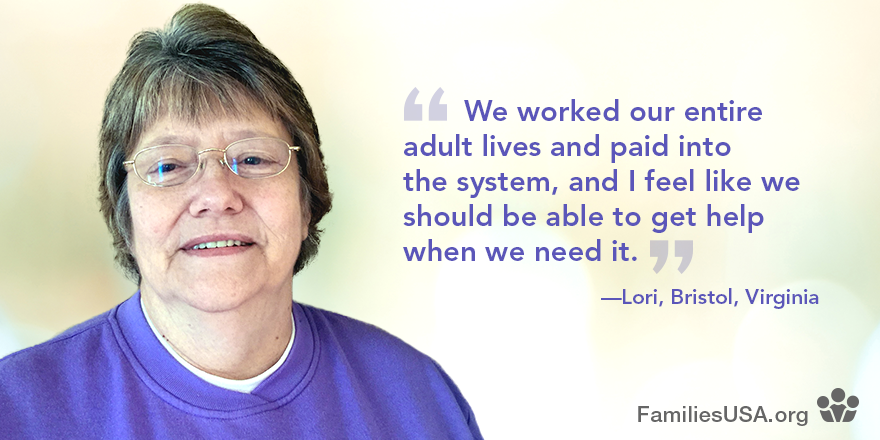 Losing her husband's employer-based health insurance has left Lori without options
When Lori left her job at an assisted-living senior center to take care of her active teenage sons and daughter, the whole family got coverage through Rich's job as a machine operator at a local manufacturing plant. Although Rich suffered from debilitating back pain caused by scoliosis and Scheuermann's disease, he worked through it to keep his health insurance. He knew that it was Lori's lifeline.
Lori suffers from a congenital heart defect that thickens the septum down the center of her heart. Her defibrillator and pacemaker, along with beta-blocker medication, kept her healthy for many years. But Lori's heart would weaken over time, and her device would eventually need to be replaced.
For Lori and Rich, 2013 proved to be a challenging year. Lori's heart had weakened substantially, and her defibrillator and pacemaker needed to be replaced. In April, Rich's back gave out and he collapsed on the floor of the manufacturing plant. Ultimately, he was diagnosed with compression fractures in his back and severe osteoporosis that left him unable to work.
No health coverage means no cardiology care
Lori explored her options for health coverage once Rich lost his employer-based insurance. She discovered that she couldn't afford COBRA. Even though Lori's doctor said she was too sick to work, she was ineligible for disability benefits because she had been out of the workforce for so long.
When the Affordable Care Act was implemented in the fall of 2013, Lori was hopeful that HealthCare.gov would finally offer insurance just when she needed it most. But she was devastated to discover that she had no affordable coverage options under the ACA. She found that she made too little money to get subsidies to buy a plan and too much to qualify for Medicaid in her state.
By mid-2013, Lori was left without any form of health insurance.
"We've been hardworking taxpayers our entire lives," Lori said. "And now, when we need the system to help us, they won't. I'm afraid this will kill us."
Lori said she spent the next few years "just trying to survive."
Lori is supposed to see her cardiologist every few months, but she stopped going because she couldn't afford the $300 office visit fee. Her prescription for beta-blockers eventually ran out, so she rationed her husband's pills. She feared that her defibrillator would shock her if she didn't get more medication.
Lori cannot afford a doctor's visit or pay for the medication she needs
By late 2015, the battery on Lori's defibrillator and pacemaker was running low and she was overdue for a replacement. Her cardiologist knew that time was running out, so he started to take action. He waived his surgical fee and convinced the hospital to cover the cost of the procedure. Her cardiologist also petitioned the medical device company to donate the defibrillator and pacemaker for free. Lori had the surgery to implant a new device at the end of 2015.
While Lori is thankful for her doctor, she knows many others aren't as lucky.
"I am so grateful for my doctor, but I worry about people who don't have doctors like mine. Most people don't get that extra level of help, and I worry about them—they could be dying," she said.
Although Lori feels more confident about her health, she worries about not getting regular care for her heart condition. She still can't afford to pay $300 to see her cardiologist to get treatment and renew her prescription. In addition, she suffers from an untreated hernia and a thyroid condition that complicate her heart condition and inhibit her day-to-day quality of life. Lori's thyroid condition can be treated easily with medication, but she can't afford to buy the medication or see her doctor to get a prescription.
"It blows my mind that they won't expand Medicaid," Lori said. "Going without health insurance is just a constant battle."
Medicaid expansion in Virginia currently blocked by the legislature
This battle could end for Lori, and the other 400,000 Virginians who stand to gain coverage through Medicaid expansion if legislators decide to expand the program. Lori said that she's "not expecting a handout," but she hopes that her state legislators understand that hardworking Virginians like her deserve some help.
Governor Terry McAuliffe has made Medicaid expansion a priority, but the Republican-dominated legislature keeps blocking these efforts. A local Virginia newspaper said it best in an article this week:
"The decision [from the state's House and Senate this week not to support Medicaid expansion] was no surprise to health care advocates who have continued to fight for expanded health coverage of uninsured Virginians, including low-income parents and working adults. 'It's more than disappointing that the legislators continue to ignore the needs of this population,' said Jill A. Hanken, senior attorney at the Virginia Poverty Law Center."